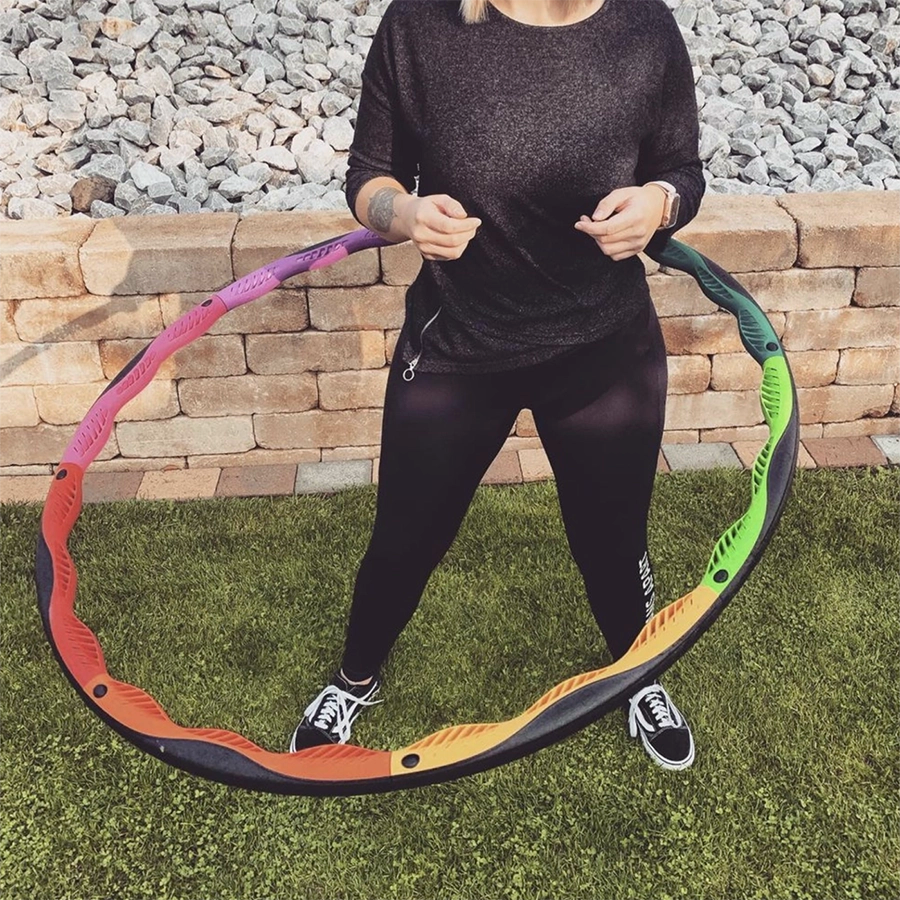 Discover good health and a happy soul with Powerhoop weighted hula hoops. Some people believe that standing inside of a circle creates a sense of harmony. Whatever the reason, hooping simply makes people happy. At a time when we are often stressed and overwhelmed by the modern world, hula hooping can provide a sense of calm in the storm. Weighted hula hoops are fun, but it is also a serious fitness tool with hundreds of thousands of fans worldwide.

Weighted Hula Hooping brings a host of positive effects. It dramatically improves your core fitness and helps to burn calories.

You can also hoop anywhere. It is the perfect workout to do at home, you can join a Powerhoop class or just hoop wherever you go! Powerhoops are easy to transport, you can choose your ideal weight and you can even enjoy online workouts at Powerhoop TV.
Best Weighted Hula Hoops for 2023
----------------------------------
Powerhoop Deluxe
Best: Overall
Recently awarded The Independent's "Indy Best Buy" Award, the patented Powerhoop Deluxe is many hula hoops in one, enabling users to "upgrade" incrementally with its unique adjustable weight system.
The hoop starts with a basic weight of 1.6kg, and comes with four stainless steel inserts to take the weight up to 1.9kg. If you choose to have an extra set of weights, this will take the total up to 2.2kg.
The diameter is 102cm.
Basic order includes: Powerhoop Deluxe, 1x set of four weights, free 30-day trial to PowerhoopTV & 3min instructional video download.
 ----------------------------------
Powerhoop Slim
Best: For sensitive users, and healthy teens (with one link removed)
A streamlined weighted hula hoop suitable for all adults and optimised for teens and sensitive users. Its 3-lb /1.4kg weight helps slim and tone the body's core muscles, while the non-­wavy inner surface and high-­density foam padding provide extra protection against discomfort. 
• The removal of one link makes the Powerhoop Slim suitable for petite users and healthy teens (ages 10+)
• Can be assembled and dismantled for travel and storage.
• All component materials meet strict European chemical safety standards for children and babies.
Basic order includes: A Powerhoop Slim & 3-minute Instructional video download.
----------------------------------
Powerhoop Light
Best: For petite users and healthy pre-teens (with one link removed)
The Powerhoop Light is the best hula hoop for healthy pre-teens. Powerhoop is a revolutionary fitness tool - a fun and effective way to have fun and stay in shape. 
It has it all... oodles of fun, a great energy burner and lots of colour all in one go! The Powerhoop Light makes the perfect Birthday or Christmas present and a healthy way of having fun. Powerhoop is joyful movement!
Weight: lightly weighted at 900g, making it suitable for sensitive hoopers and healthy preteens (ages 10 and up).
100cm diameter
Durable: sturdy enough for heavy use in school gyms
Portable: can be assembled and dismantled for convenient storage
Adaptable: Can be used with 7 or 8 links depending on the user's size.
Basic order includes: A Powerhoop Light & 3-minute Instructional video download.
----------------------------------
Why a Powerhoop and not other hoops?
Adjustable weights: the Deluxe Hoop lets you grow into your hoop at your own pace.
Durable & comfortable material with compressible cushioning
The large diameter makes it easy to use, and the wavy pattern helps to quickly build a "body armour" of core muscles
Powerhoops can be dismantled for convenient storage and travel
Designed, developed and manufactured in the UK.
Phthalate-free material means safety in households with children, and no unpleasant chemical smell.
Powerhoops are backed by top-quality customer service. Our team doesn't just sell Powerhoops... we love them ♥
----------------------------------
Alternatives
There are hundreds of weighted hula hoops that all look the same and made from thin plastic, with flimsy connectors. A huge selection of hoops on Amazon are anything but a bargain. Experience the difference that a genuine Powerhoop makes to your happiness, health and fitness.
Thousands of satisfied customers tell us that their Powerhoop was worth the investment.
 ----------------------------------
Powerhoop Reviews
See for yourself why we are the best in the world at what we do. The Independent newspaper awarded us the Indy/Best Buy award. Read the Independent's Hula hoop article.